Now that Out Fitness is 7 months in, with 60+ participants (and several loyal regulars), I'm giving lots of thought to our pricing structure. Can you help me think this through?
Currently, our monthly revenue is covering less than 75% of our studio costs, and we're about 50% of the way towards our sustainable revenue goal. I don't think our pricing is working very well to encourage routine participation, even though we want our community members to keep coming back!
Current pricing situation:
Every workout or class is $6+ and pay-as-you-go for lowest barrier of entry.
Working out frequently becomes more expensive for you, which is a disincentive to build a long-term routine here.
With this model, it is also difficult for me to predict Out's revenue and plan for future costs.
Our equity goals:
Low and flexible costs for participation, so our community can be as inclusive as possible
Opportunities for more resourced people to contribute more to the collective
Class instructors keep 100% of direct payments (tips) from their participants
Proposal for Partner Plan:
$30 /month (similar to 3-5 pay-what-you-can, private workouts), with ability to cancel and reactivate plan at any time
Partners can book unlimited private workout times and can continue to bring 1 free guest
Partners get $1 off any class (i.e. reserving your class spot is free)
Partner Plan could also be a way to make a recurring donation (i.e. you can buy an extra plan to donate for another community member)
UPDATED mockup: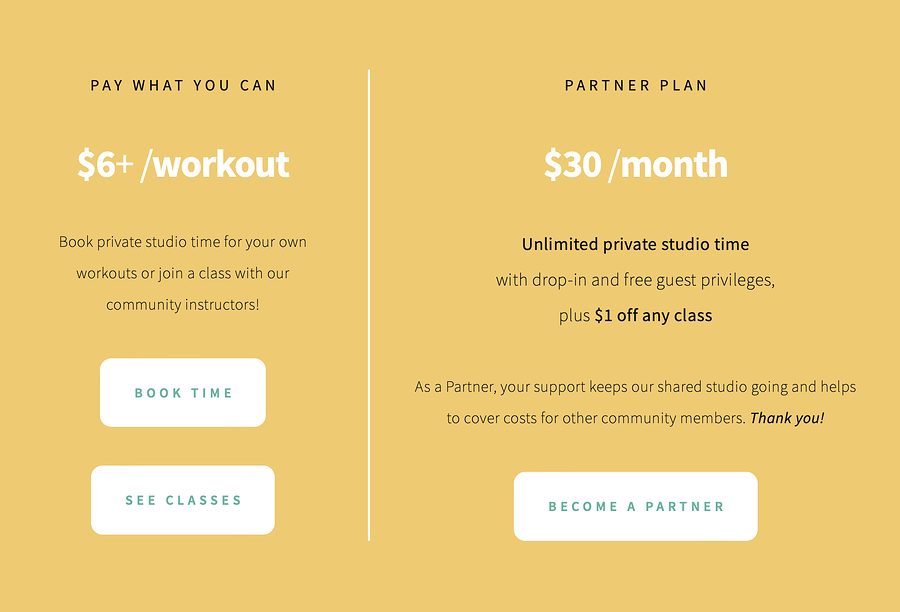 Old mockup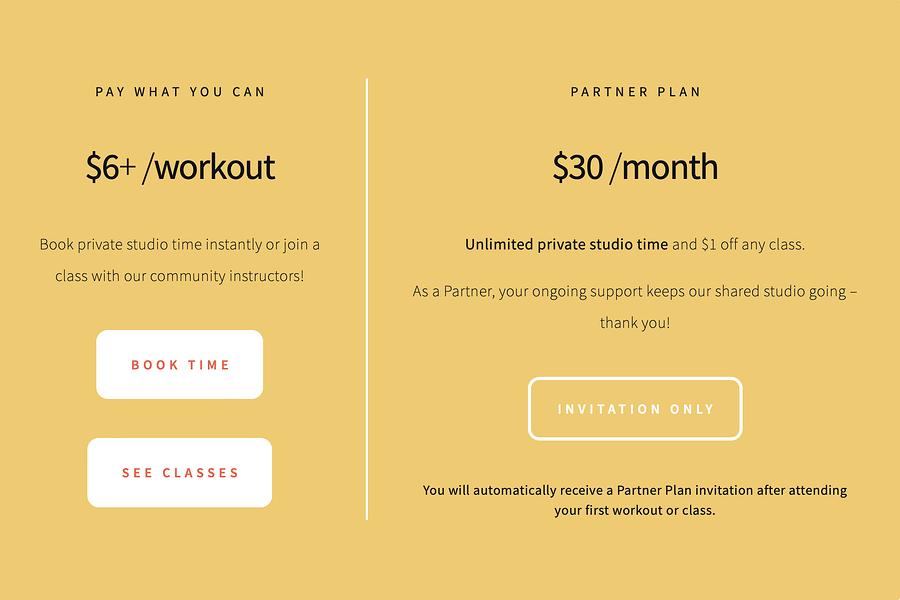 Potential drawbacks of the monthly plan:
It rewards people who have more money to pay upfront. With our booking system (Acuity), I cannot find a way for participants to "earn" a monthly plan by accumulating their pay-as-you-go workouts.
The plan pricing is not fully flexible – that is, more resourced people can't choose to pay $40 or $50 monthly even if they'd like to. However, they can still pay extra for their private workout bookings as well as tip their class instructors more.
Partners might claim lots of class spots and then not show up (but we could implement a no-show fee if necessary).
What do you think? This would be our first pricing change since October 2022, so the more input I can get, the better the decision can be.